Gastropus minor: lateral view, has two toes. The red eyespot is also visible.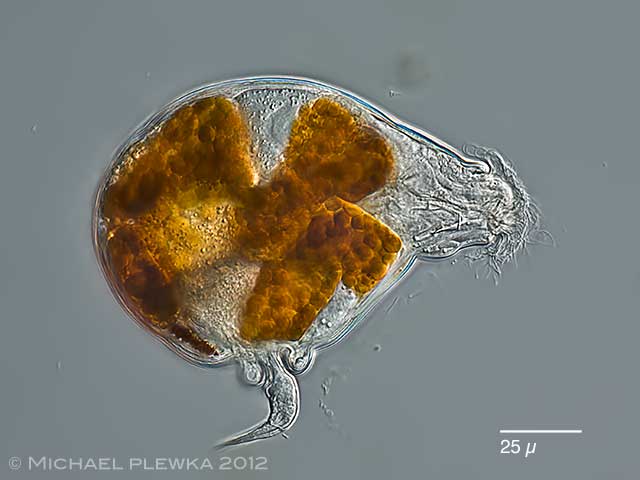 Gastropus minor: the cells of the stomach wall are brown or green with chromatophores incorporated intracellularly from ingested algae.
Gastropus minor; two aspects of the trophi (2). In contrast to Gastropus hyptopus the tips of the rami have no dents.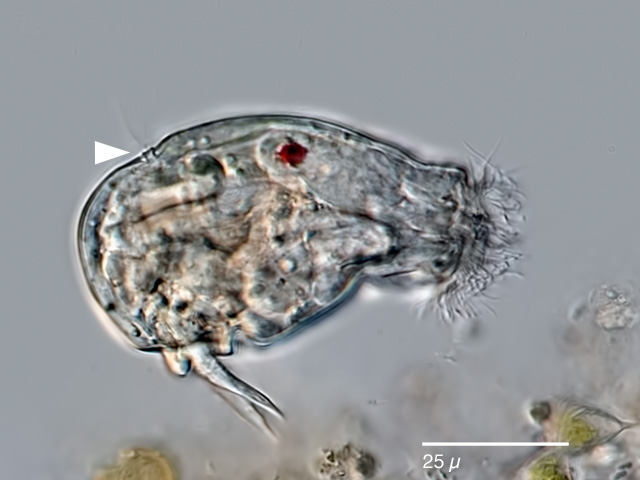 Gastropus minor; specimen from (3); the arrowhead points to the dorsal antenna, which -in contrast to G. stylifer- is located in the last third of the lorica.
Gastropus minor; another specimen from the same location (3); (4)
Location: water reservoir Heilenbecker Talsperre / Ennepetal/ NRW (1;2); NSG Heiliges Meer, Nähe Erdfallsee (3)
Habitat: Plankton (1,2); Periphyton (3);(4)
Date: 15.04.2010 (1); 26.5.2012 (2); 15.05.2011 (3); 06.04.2018 (4)