Habrotrocha ligula, whirling specimen dorsal view. The conspicuous ligula in the sulcus is visible (arrow).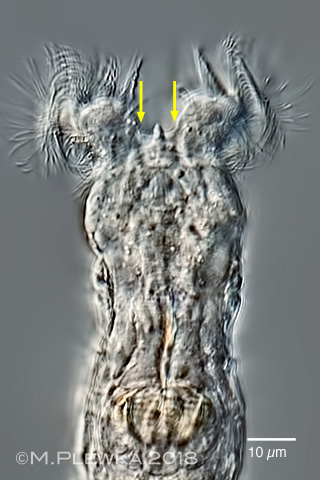 Habrotrocha ligula, detail of the head, dorsal view; focus plane on the ligula. The arrows mark the width of the sulcus, which -in contrast to the original description by Bryce (1913)- is about 2/3 of the witdth of the trochal columns.
Habrotrocha ligula, optical longitudinal section of the anterior part while creeping.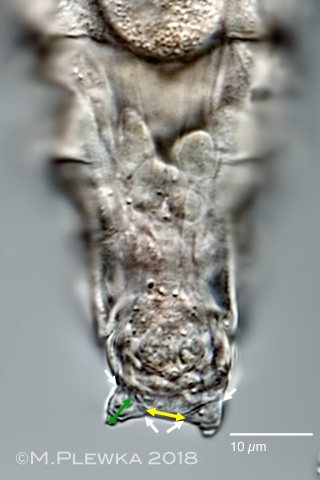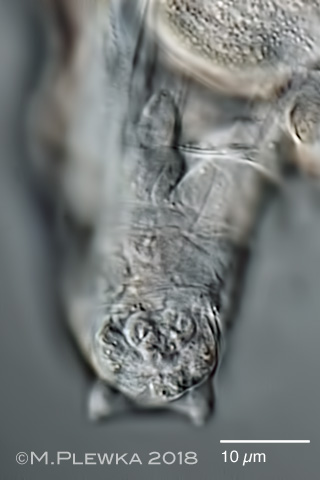 Habrotrocha ligula; two images of the foot. Left image: bulbous spurs with distinct tips and wide interspace. The white arrows mark the base of the spurs (SB); the yellow double arrow marks the interspace (IS); the green arrow marks the length of the spurs (SL). The ratio: SB : IS : SL is approx. 1 : 1 :1. Insofar the specimens in this sample differ from the description given by Bryce (1913) and are more congruent with the drawing in Bielanska-Grajner,
Ejsmont-Karabin et Iakovenko, (2013). Right: focus plane on the toes.
Habrotrocha ligula; ramate trophi in cephalic view; dental formula 3/4.
The specimens from this sample deviate in certain traits (sulcus, spurs) from some descriptios of this species. Also Donner (1965) supposed that there might be several species.
Location: NSG Koffituten near Hopsten,
Habitat: dry moss
Date: coll.: 16.06.2018, img: 28.06.2018;