basic morphology of bdelloids: the foot
The foot is the posterior end of rotifers. It enables the attachment of the whirling and the creeping / sliding movement of the bdelloid rotifer.
The foot can be differentiated into:
1. pseudosegments (up to five
2. the spurs (always two)
3. the toes, the number of which is specific for a genus and therefore very important for identification.
One common misconception for beginners is that the spurs are confused with the toes. The toes are always the terminal end of the foot, whereas the spurs are always located anterior of the toes. Very often, especially when the rotifer is whirling, the pseudosegments of the foot hide the toes, and only the spurs are visible.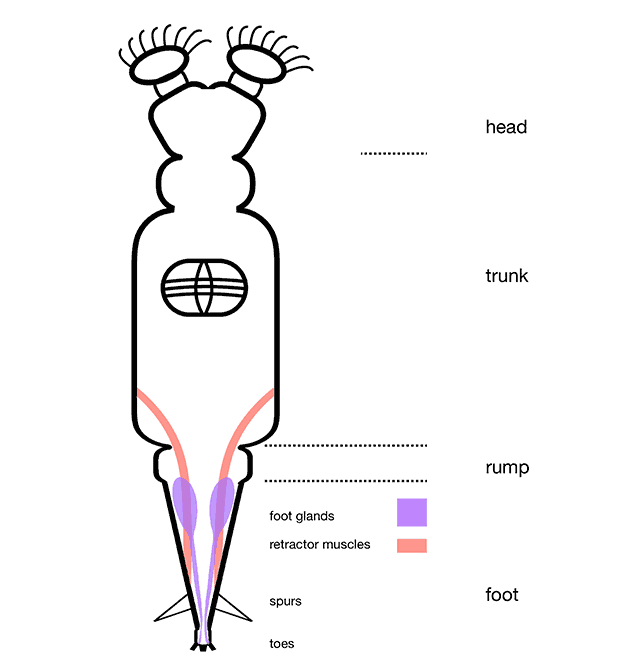 Schematic diagram of the foot of a bdelloid rotifer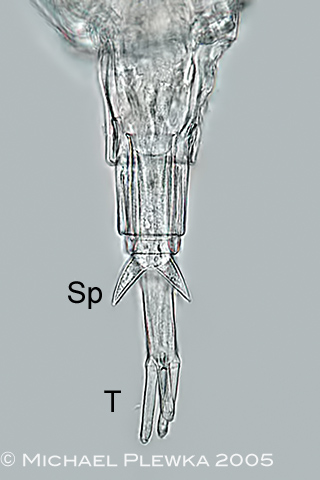 Left image: Rotaria rotatoria; foot with spurs (Sp) and three toes (T). Right image: Dissotrocha hertzogi; foot with spurs (Sp) and four toes (T)
A special case is Henoceros falcatus (family Philodinavidae): instead of 2 spurs there is one conspicuous caudal appendage (arrowhead). Also the rotifer Coronistomus impossibilis has such appendage.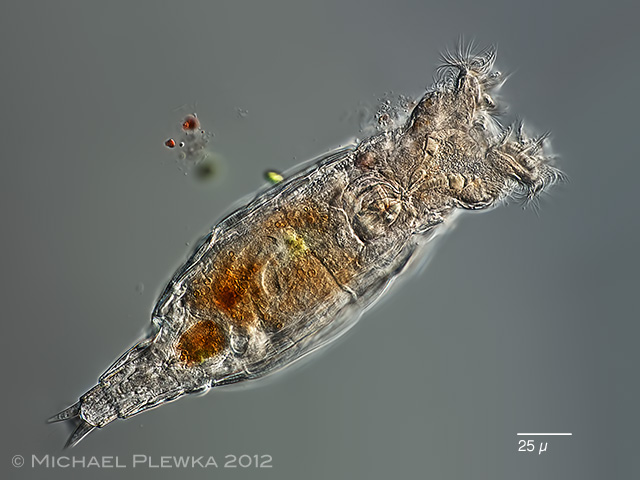 Philodina rotifer, whirling. What is visible at the posterior end are the spurs, not the toes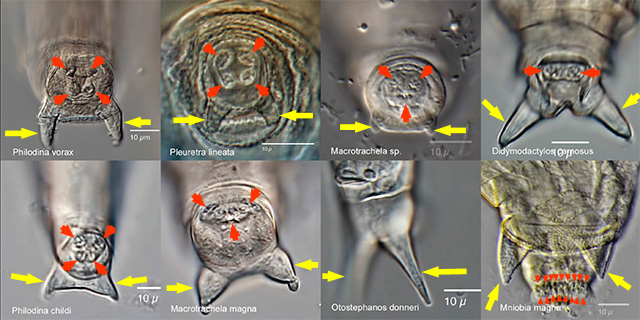 Spurs (yellow arrows) and toes (red arrows) of several bdelloid rotifers. Mniobia species (example lower right) do not have toes, but an adhesive disc which is marked by a row of red arrows. A complete list of the numbers of toes of all bdelloid rotifers genera is below.
The form and orientation of the spurs of bdelloid rotifers maybe categorized in several spur types.

To get the best view on the toes the position of the rotifer should be "upside down", which happens very often when the rotifer is creeping.
Rotaria citrina, posterior part of the animal. The foot of a bdelloid rotifer is extendable by hydrostatic pressure which is achieved by the contraction of the transversal ring muscles (optical transects; green arrows) in the trunk, which will yield a reduction of the volume of the trunk. The body liquid is thus pressed into the foot, which extends. The red arrows point to some of the muscles which can retract the foot into the trunk.
Rotaria citrina, foot glands. The footglands contain a substance with is excreted through pores in the toes. This "glue" enables the attachment of the foot while whirling or when creeping.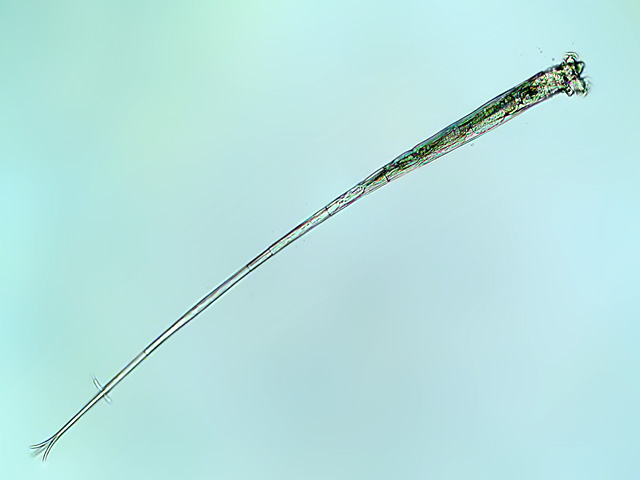 Rotaria neptunia, the rotifer with the longest foot (compared to the total length) of all bdelloid rotifers. The foot pseudosegments are telescopic and therefore the foot can be extended or contracted. This enables this species to hide in the mud layer where it is living.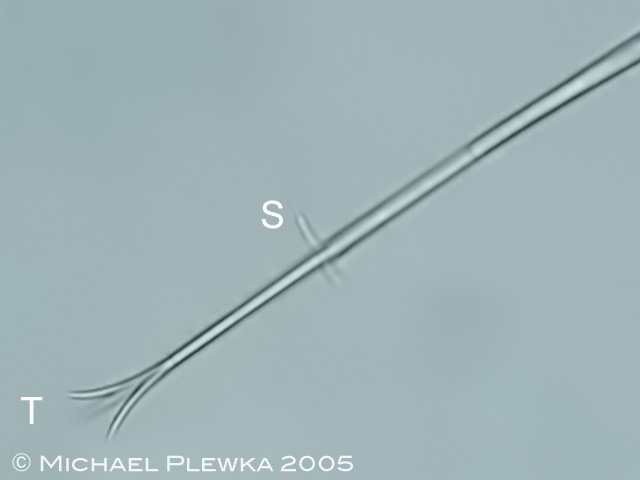 Rotaria neptunia with very long toes (T); S: spurs
List of the number of toes of the bdelloid genera
Family
Genus
Number of toes
Habrotrochidae
Philodinidae
Philodinavidae
Adinetidae