Macrotrachela musculosa; dorsoventral view, whirling. (3)
Macrotrachela musculosa; head region of two different specimens from the same sample, whirling; two different focus planes. Upper left image: focus plane on the Y-shaped two-lobed upper lip. Upper right: focus plane on the base of the rostrum which shows a triangular-shaped elevation (arrowhead). Lower images: two aspects of the upper lip of specimen no.2. Macrotrachela musculosa must not be confused with M. plicata plicata which has a ligula in the sulcus. (3)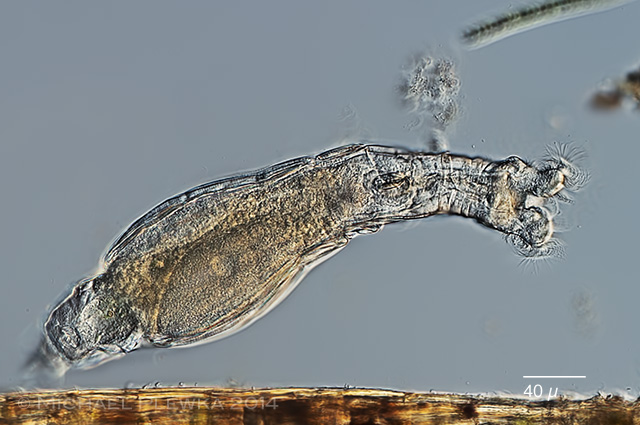 Macrotrachela musculosa; ventral view, whirling. (1)
Macrotrachela musculosa; another specimen from the same sample (1), detail of the head, whirling; two different focal planes left image: focal plane on the two-lobed upper lip. Right: focal plane on the concave-shaped sulcus. Macrotrachela musculosa must not be confused with M. plicata plicata which has a ligula in the sulcus.
Macrotrachela musculosa; two aspects of the foot of different specimens. Left: focus plane on the 3 toes and the granulated spurs (3). Right: rump and foot with spurs. The rump exhibits some folds, the foot is granulated, but does not show an elevation like stated in the book of DONNER for most specimens (1).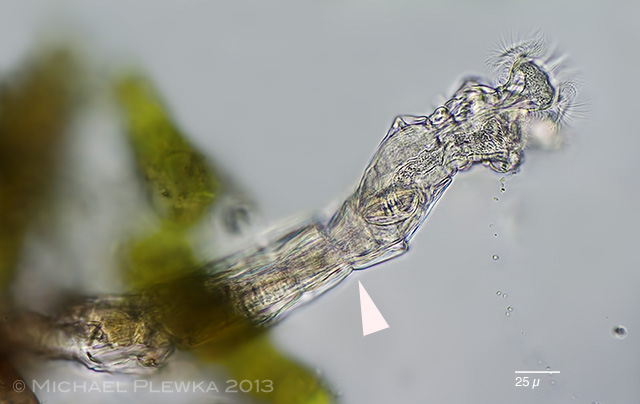 Macrotrachela musculosa; lateral view, whirling. (2) While whirling M. musculosa was sometimes observed bending backwards at the marked area forming an angle of about 90 degrees similar to Habrotrocha colliflectens.
Macrotrachela musculosa; three aspects of the head in lateral view while whirling (2)
Location: Wuppertalsperre, / Germany, Moss (1); Germany, Hattingen Oberstueter, forest (2); Torfhaus/ Harz; Torfhaus-Moor (3);
Habitat: moss on ground (1); moss on tree, together with: Bryceella stylata, Macrotrachela papillosa, Philodina ?nemoralis, Encentrum lutra (2); moss on tree (3)
Date: 10-15.3. 2014 (1); 16.2-28.3.2013 (2); 23.10.2016 (3)
Identification by courtesy of Nataliia Iakovenko, University of Ostrava, Czech republic.